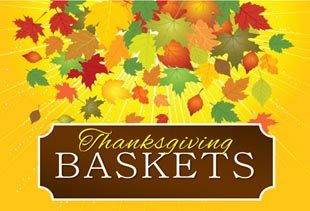 Dear Church Family, 
Please join in and share your bounty with others again this year!  For the next 3 weeks, we'll bring our food items to the lobby and load our Thanksgiving table full of delicious food!  (Suggested items below.)
Can't get out to shop?  Could we suggest you place your contribution in the donation jug on the table.  (Important for buying fresh items to include!)
We'll get together on Wed. evening, November 20, and pack our boxes to have everything ready to distribute on Sabbath, the 23rd, just in time to make sure others have a wonderful Thanksgiving too.
Thank you so much for your generosity and help with this annual project.
The Community Services Committee
Food Items for the Thanksgiving Boxes
Cake Mixes
Canned Corn
Canned Cranberry Sauce
Canned Green Beans
Canned Sweet Potatoes
Canned Peas
Canned Vegetarian Baked Beans
Canned Fruit:  All kinds
Canned Soups
Cereal, hot, i.e. rolled oats, or individual packets instant
Cereal, cold, i.e. Cheerios, puffed wheat, etc.
Dry Gravy Mixes
Frostings
Hot Chocolate, individual packs
Jelly/Jam
Mac 'n Cheese
Onions
Oranges/Apples
Potatoes
Pancake Mix
Pancake Syrup
Peanut Butter
Pudding mixes, instant
Rice
Spaghetti
Spaghetti Sauce
Stuffing Mix
(No canned pumpkin)
All food donations should be in the church lobby by Sabbath, November 16.  Volunteers are needed to pack boxes on Wed., Nov. 20, at 5:30 pm, ready for distribution on Nov. 23.